Large lodges
Chaucer Barn's large lodges provide the perfect romantic escape from the hustle and bustle of the Barn when it's full of your guests.
There are two large lodges, each of which features exquisite craftsmanship. They are constructed from timber from the Yew tree, hence their names – Yew One and Yew Two. The bed and worktop in each are hand-made from polished 1400 year old Yew.
Imagine waking up on your first morning of married life to the sounds of the skylark. Will you breakfast together at your lodge, or stroll over to the Barn to catch up on the previous night's hilarity with friends and family, around the big table in the banqueting hall?
Do you plan to stay another day or, as with some of our guests, will you honeymoon for the rest of the week, looking down from your romantic hideaway into our hidden valley at Chaucer Barn?
These are some of the tricky choices that are thrust upon those who choose the blank canvas that is Chaucer Barn.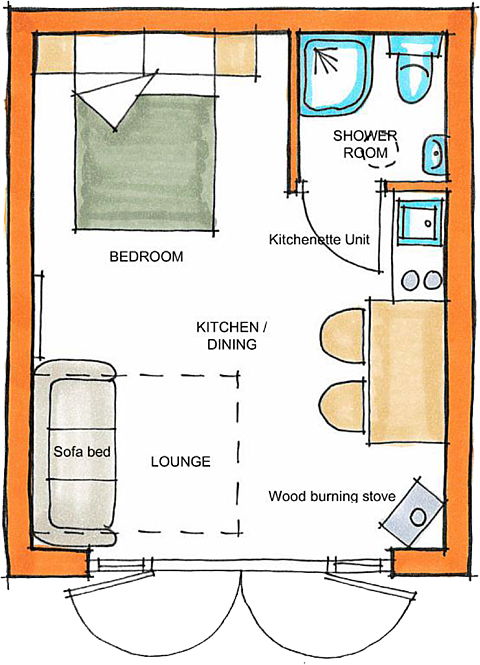 ---
Large lodge specifications: internal dimensions: 5m x 4m approx, King size bed, a larger bathroom and sofa bed, 4 person table, hob, sink, fridge, wood-burning stove with logs, microwave oven, 2 folding armchairs and 2 folding chairs.